BY: Chelsea
"…health and happy taste buds living together in harmony" – Bakery on Main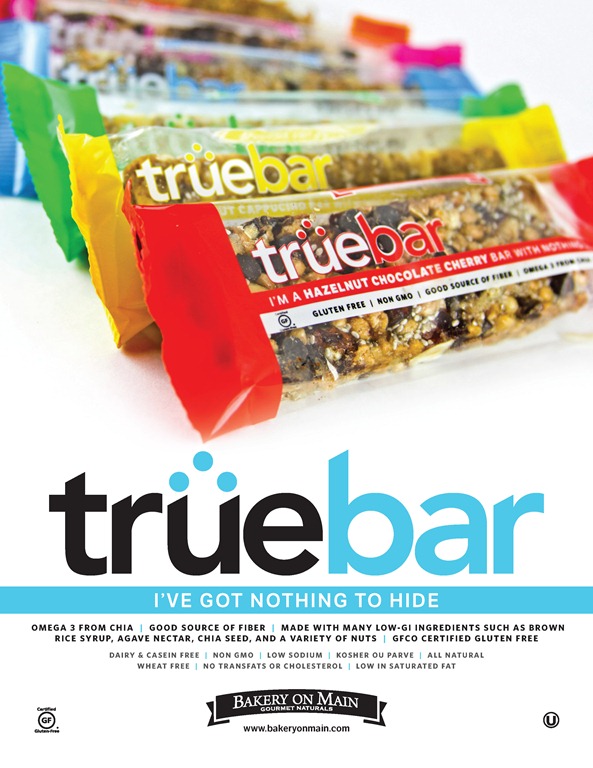 One of the many great things about working in a Dietitians office is the delicious free samples we continue to receive from various health food companies promoting their products. Bakery on Main, a health-conscious bakery located in Connecticut, recently sent us all six flavors of their newest product, TrueBar; Hazelnut Chocolate Cherry, Walnut Cappuccino, Fruit & Nut, Raspberry Chocolate Almond, Coconut Cashew and Almond Chai were the names of these delicious looking granola bars. TrueBars are a good source of Fiber and Omega 3's, are made with many low-GI ingredients, and are GMO , dairy and casein free. They are also low in sodium, have no trans-fat or cholesterol, and are certified gluten free. In fact, all of Bakery on Main's products are targeted toward those with Celiac's disease (a disease where one cannot digest gluten, a protein found in many grains) but are delicious and can be enjoyed by anyone, including me!
When I started getting hungry for a mid-afternoon snack at work this past Saturday I was relieved to find these amazing looking bars in the office. I grabbed the Raspberry Chocolate Almond bar (probably because there were a million little dark chocolate chips sprinkled on top) and I realized this was not your average granola bar. The TrueBar wasn't overly sweet but had the perfect amount of chocolate and natural sugars to satisfy my sweet tooth. It was chewy and I could tell right away that the ingredients were all natural; it didn't taste like artificial sweeteners or processed food additives. Not only could I taste the all natural ingredients, I could actually see them in the bar. The whole almonds, tiny dark chocolate chips, and chia seeds among other ingredients were all held together with sticky, sweet agave nectar. The great part about these bars is that they are only 150-190 calories each yet pack a huge amount of nutrients into what makes a perfectly healthy snack in between meals. There was however one big downside to my TrueBar experience: I had no milk to go along with my perfectly sweet afternoon snack.
For more information about Bakery on Main's healthy, gluten-free products visit their website.